Extremely rare Ouija board found!
Last week in my grandmothers attic I found an extremely interesting and, it seems, rare Ouija board, a picture of which I have attatched with this mail. The first thing I noticed was that the letters were all in a strange, but somehow familiar arrangement. I took the board downstairs and dusted it off, and lo and behold, as I was sitting down at my computer to research the board, I recognized the pattern!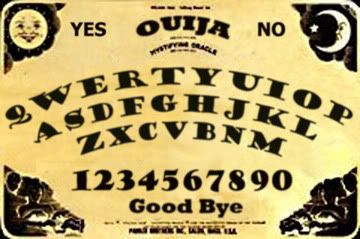 The letters on my Ouija board were aranged in the QWERTY pattern! You can imagine how amazed I was that some ouija manufacturer, long before the advent of computers had discovered and put into use the QWERTY method. Making my find all the stranger I could not find any information on the board, even on the illustrious, Museum of Talking Boards site, which I hold in high regard.
So, what could I do? I waited until that evening, lighted a few candles, wiped down the board again, and put it to use. The planchette had not been found along with it, but, irony of irnoies, I discovered that although I had no wine glasses to overturn, my computer mouse made a quite suitable substitute.
I contacted several spirits with my QWERTY Ouija, and go results which were stranger than normal. One spirit persisted to call me 'baby' and wanted to know if I wanted to 'astral' with him. I said goodbye to that one pretty quick! Another spirit threatened to 'hack' my board and thus gain possesion of my body. The third, and final spirit I contacted with the board had a strnage obsession with buying items, and asked me to describe my music collection.
I have decided that while not a very good board for contacting spirits with, the QWERTY ouija has a charm, and interest value that i cannot deny!
***please note, the above story and attatched picture are completeley ficticious. Except for the part about The museum of Talking Boards being great! That's nothing but the truth.