Overlord Celebrity News (straight from Xenu to you!)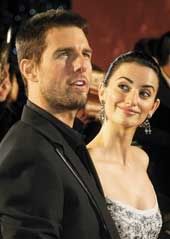 I'm going to make this predction here, and now. I've been saing it for weeks, but I'm going to record it for posterity, so i can look back and say how right I was.
The reason that no one has seen Suri Cruise is because Tom is raising her in seclusion as the reincarnation of L. Ron Habbard. Thats right, the next time we see that child she is going to have been conditioned to believe that she is the second coming of the Scientology Messiah.
I bet you. I seriously bet you.