So, I found something truly weird and awesome on ebay.
It's a pin of Jafar, the villain from Disney's Aladin, but he's in motorcycle leathers, and leaning against a sweet ride. (He still has his hat though) XD
Here's a pic.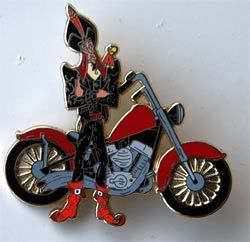 What really sent me over the edge is that this is official Disney merch, and it looks for all the world like delicious villain-fangirl fantart. I bought this one, but there's another for sale if anyone's interested.
If anybody has any knowledge about how this pin came to be, or if it's part of a series, please let me know! 😀
(Personal aside: I had a dream a few years ago that was like a missing scene from Aladdin; it was Jafar singing a song to the tune of "Be our Guest" in an attempt to seduce someone. Very strange)